I visited the Berlin Wall just days after it fell. Walking towards the crumbling physical and cultural divide with my family, I could hear what sounded like tiny bells. As we drew closer, I saw the sound emanated from hundreds of people, armed with hammers and tools of all sizes, eagerly tearing down the mammoth concrete barrier that kept families separated for years. I will never forget that sight as long as I live! And this was just one of many life-changing trips I experienced growing up in a traveling family. We crisscrossed U.S., Canada, and Europe, growing closer as we discovered the world.
The destinations were sometimes unclear to us as kids, we just loved the journey. I recall bragging to my 4th-grade classmates that for our summer vacation, we were going to Disney World, but more importantly, "to see the Nations!" A couple weeks later, in the hills of Lawrenceburg, TN, I learned that these grandiose-sounding "Nations" were actually an elderly couple on a remote farm, whose last name was… "Nation". At least my brother and I got to sleep in their pop-up camper, and I have a story to last a lifetime.
The Wayfaring Brendtros
After graduating from university and getting married, I settled down. The travel bug went dormant only to reawaken several years later. It began gradually with a family trip to Hawaii, then a few more, exploring mountains and rainforests, cliffs and canyons. My wife, kids and I eventually found ourselves "homeless" for nearly two months following the sale of our house in Kansas City. We bounced around on an extended vacation as a family – exploring, learning and growing together, just as I once did when I was young. It was an unforgettable experience that flipped a switch in all of us. Even when we closed on our Nashville home, we still longed to keep traveling at every opportunity.
After a particular three-month, 19-state trip, we bought a new car and determined to dial back our travel, naively telling ourselves, "We won't put as many miles on this one." But one year and 40,000 miles later, we're just as full of wanderlust. Our travels take us from sea to shining sea, and even overseas! Passports in hand, we're always eager for our next destination together. If either of our kids has a suggestion, it makes the list. We've got a fever, and the only cure is more… travel.
But we don't simply travel for travel's sake. Our family's shared experience changes us along the way.  We get in tricky situations and learn to work together. We practice making decisions as a team. "Side by side, we're arrested by startling beauty and exhilarated by new discoveries." We make more friendships everywhere we land and leave a piece of our hearts when we depart.
To us, our house in Spring Hill seemed more like a "long-term rental" that we just happened to own. It was a peaceful home base where we enjoyed our neighbors. In our hearts, we felt like God really didn't want our roots down too deep, but had instead enabled us free to continually explore and build connections. That made perfect sense, with our unique work-at-home and homeschool life.
Our Big Announcement
This last December, we felt a change in our season coming on. We took a two-week trip to Mexico (not the tourist part), to immerse ourselves and spend some time away reflecting and dreaming. We prayed for direction, secretly hoping for the complete roadmap. But it ended up being just the simple guidance of peace – put our house on the market in the summer, and watch what unfolds.
So we did it. We spent a few months preparing our house for sale, then listed it last Wednesday. Six days, nine showings, and three offers later, we secured a contract. The closing date is July 20th, at which point our newest adventure begins. The funny thing is, as summer grew closer and our resolve to sell our house solidified, a new location continued to pop up on our radar.
What's the Plan, Stan?
So where are these wayfaring Brendtros headed? Well, since we loved every second of our vagabond life between KC and Nashville, we are set to do it again. We have vague plans to visit Washington, DC for a couple weeks, my family in South Dakota for a couple more, friends in Minnesota, Michigan, Georgia, and who knows where else along the way.  (Yes, we do know these places are nowhere near each other and connecting the dots just makes a squiggly picture.)  When our wandering concludes, we expect to land in Pensacola, Florida – Perdido Key area – possibly to rent, and possibly to buy another "long term rental".  After all, if we love the ocean so much, why not try living by it?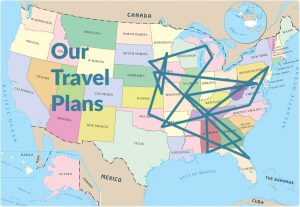 We have a sneaking suspicion that this move is likely only for another season… long, short, who knows? Do we eventually return to Nashville? Are there 10 other destinations after Pensacola? Are we ever going to be the settling types? We're not sure, and that's perfectly okay. After all, it wouldn't be faith if we knew everything. Like my wife tells our kids, "God has an adventure marked out for you, perfectly suited for who he created you to be." So we're stepping out again and can't wait to see where the road leads.
To our Friends
To our friends here in Nashville, we don't expect to stop traveling. We will likely swing through several times a year on our way. And of course, if you want to sit on the beach with us and catch up, we've got a spot in the sand for you.  It's just a quick 6-hour drive.
To our other friends scattered around the country, be on the lookout for us. We may swing by for coffee. And starting this fall, if you're in the Pensacola area, please look us up! We would love to swap stories and teach you to boogie board.
May all our adventures continue to overlap!